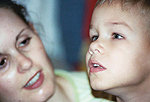 At Arcadia, we see a few things with refreshing clarity:
Kindness
Community
Teaming
Support
Engaging families in their child's growth.
Envision your work with us. New graduates and seasoned therapists alike will find lots of opportunities to learn and share together. We're excited to connect with therapists throughout the country who are ready to consider moving to our beautiful state and begin a meaningful therapy journey.
Open the window of possibility...see yourself with us!